4 Reasons to Build Your Forever Home
at Braeburn Estates
Looking for that perfect location where you and your family can build your dream home?
Especially in times of low returns and stock market volatility, real estate is one of the best investments you can make. And with waterfront property being in scarce supply, there is always a strong demand for the waterfront, especially hill-top land where there is no flood risk.
Braeburn Estates offers beautiful waterfront building lots that are close to Ottawa; it's the ideal location for anyone dreaming of a 4-season home in a community that offers that laid-back, cottage lifestyle.
4 Great reasons why you might want to take the plunge and build at Braeburn

:
Location and accessibility are some of the most important factors to consider while buying property, especially if you want it to be a good investment. Waterfront residential property is always scarce and having an all-waterfront community like Braeburn Estates is something quite special, indeed. The small towns or Renfrew and Arnprior are close by and offer all the retail conveniences of larger centers.
Braeburn is located just 25 minutes to Kanata, in the picturesque hamlet of Burnstown, Ontario. You can walk to restaurants, galleries, enjoy live music, or be on the ski slopes at Calabogie Peaks in just 20 minutes. Commuting to Ottawa is pretty stress-free as you travel along country roads and the 417.
Our waterfront lots by Ottawa are located by the Madawaska River and surrounded by a beautiful woodland in the rolling hills by Burnstown. The Madawaska is one of the cleanest rivers in Ontario. It's ideal for swimming, fishing, paddling, etc., and even if water activities aren't your thing, you are sure to enjoy the magnificent view.  The surrounding woodland offers peace and tranquility – it's a great way to de-stress from our hectic lives.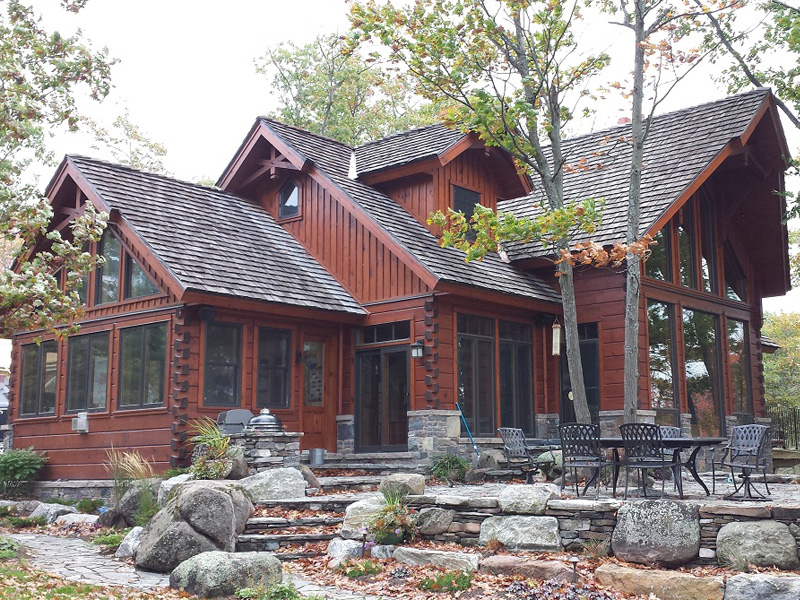 Our waterfront lots by Ottawa are ready now for you to start planning your dream home. Homesites are around 1.5 acres and boast around 150' of waterfront; each site is planned to maximize the homeowner's privacy and ensure excellent views. Houses will typically be built on the hill, meaning that the views will be superb and there will be absolutely no risk of flooding.
At Braeburn Estates, we don't just provide beautiful lots, but we can also connect you to some of the most reliable and sought-after builders and suppliers in the area. We pride ourselves on offering the best in services for people like you that are embarking on their first home building adventure.
If you want to know more about our waterfront lots by Ottawa, don't hesitate to contact us at www.BraeburnEstates.ca. Owning and building your forever home in a beautiful, planned, and exclusive community like Braeburn Estates will offer many positive returns to you and your family in the years to come. Long-lasting and cherished memories will also add value to your investment – and perhaps that's the best return of all.
Also see:
– Is downtown life giving you that claustrophobic feeling?
– 7 Key Tips will help you avoid making a costly mistake on buying Dream Home